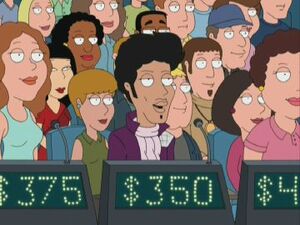 Prince Rogers Nelson (June 7th, 1958 - April 21st, 2016) was an American musician. He performs under the mononym of Prince but has also been known by various other names, most notably as an unpronounceable symbol which he used as his stage name between 1993 and 2000. During this period, he was usually referred to as The Artist Formerly Known as Prince.
He appears as a contestant on The Price is Right in "Tales of a Third Grade Nothing".
Brandee reports that Prince bred purple dolphins in "Switch the Flip".
He is voiced by Mike Henry.