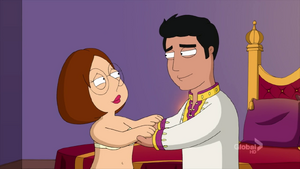 Prince Faisal is the son of a rich Arab king who purchases Meg to become his wife in "Leggo My Meg-O".
When Meg finds herself delivered to a rich, fat Arab and puts up a show of defiance after being sold as a sex slave, he reveals he bought her to be his handsome son's wife. Prince Faisal makes a heartfelt proposal, offering to send her home if she wishes but proposes marriage which Meg gladly accepts. But as they start to kiss, Stewie picks off the Prince with a silencer-equipped gun. Stewie blanks out Meg's memory of his involvement, leaving her to only remember her dead suitor.
Ad blocker interference detected!
Wikia is a free-to-use site that makes money from advertising. We have a modified experience for viewers using ad blockers

Wikia is not accessible if you've made further modifications. Remove the custom ad blocker rule(s) and the page will load as expected.