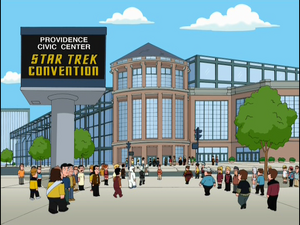 The Providence Civic Center is an attraction in Providence, Rhode Island. It is host to an annual Star Trek Convention that the Griffins attend in Not All Dogs Go To Heaven. At the convention, Meg is pushed by her father Peter next to an attendee who has the mumps so he may take a picture, causing Meg to become infected. Stewie buys a set of blueprints for an authentic Star Trek transporter device. During a question and answer session with the cast of Star Trek: The Next Generation, he becomes frustrated that no one asks questions related to the show and is unable to ask a question himself. He decides to build the transporter to bring the cast to spend the day with him.
Ad blocker interference detected!
Wikia is a free-to-use site that makes money from advertising. We have a modified experience for viewers using ad blockers

Wikia is not accessible if you've made further modifications. Remove the custom ad blocker rule(s) and the page will load as expected.