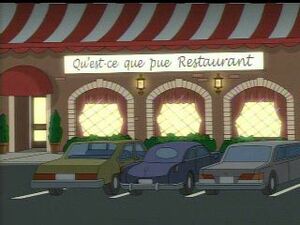 Qu'Est-ce que pue Restaurant is a French restaurant in Quahog, Rhode Island.
Mayor Adam West and his intern Meg Griffin dine here in "Deep Throats".
It is also where Brian Griffin meets Derek Wilcox, Jillian Russell's fiancé for the first time in "We Love You, Conrad". Derek impresses the waiter by ordering in perfect French. While trying to be just as impressive, Brian injures himself and a different waiter.
The name of the restaurant translates to "What stinks?" in French.