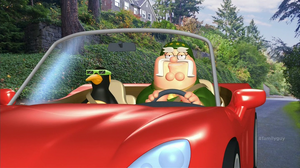 Peter's car insurance commercial is a reference to a series for The General Auto insurance Company.[1]
Peter's defense of Quagmire involving letters for Santa Claus is a reference to the film Miracle on 34th Street.
Peter's idea that Quagmire should move to Europe to make movies after becoming a sex offender is a reference to director Roman Polanski, who moved to Europe after being arrested for statutory rape.