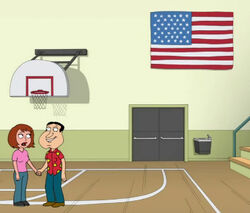 This is the second time somebody has been kidnapped to be made a sex slave, the first time being Meg in "Leggo My Meg-O".
While the Griffins were preparing for Halloween in the episode, Halloween had passed a few days prior to the episode's airdate.
The flag in the gym of James Woods Regional High School is shown to only have 39 stars.
The DVD commentary notes that the Adam Levine cutaway was originally written with Bon Iver in mind.