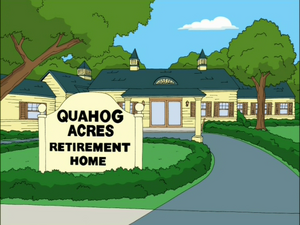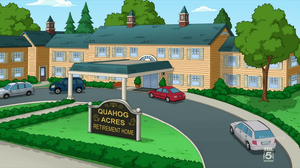 Quahog Acres is a retirement home in Quahog, Rhode Island as of the year 2035 seen in the third segment of Stewie Griffin: The Untold Story entitled "Stu & Stewie's Excellent Adventure".
Sometime in the future, Glenn Quagmire, Cleveland Brown, and Joe Swanson move in here. In 2035, Vanessa Griffin convinced her husband Chris Griffin and Stu Griffin to move their parents, Peter and Lois Griffin into the home. Bonnie had died sometime before the Griffins moved in, donating her legs to her paraplegic husband. Joe is amused that he's one of the few people not in a wheelchair.
Quahog Acres was the home to Thelma Griffin and her friend Evelyn in "Mom's the Word" at the time of their deaths.