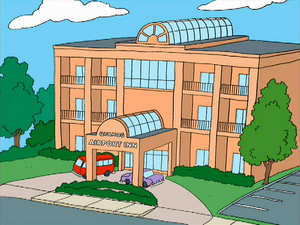 The Quahog Airport Inn is where Peter and Lois, as well as many of their neighbors, attend a high-pressure time-share sales pitch in order to be given a boat in "I Am Peter, Hear Me Roar". Following a presentation that shows the island resort is overrun by man-eating ogres, Peter elects to take a "mystery box" instead of the boat. While the neighbors choose to stick with the boat, Peter and Lois are given tickets to a show at the Chuckle Bucket Comedy Club.
Ad blocker interference detected!
Wikia is a free-to-use site that makes money from advertising. We have a modified experience for viewers using ad blockers

Wikia is not accessible if you've made further modifications. Remove the custom ad blocker rule(s) and the page will load as expected.