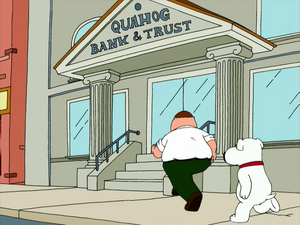 The Quahog Bank & Trust is a major bank in Quahog. It gets robbed in "A Hero Sits Next Door" and Peter, wanting to prove himself a better hero than Joe, attempts to foil the robbery. At the end, he ends up getting saved by Joe.
Notes
The bank sits next to another bank called First National Bank.
Ad blocker interference detected!
Wikia is a free-to-use site that makes money from advertising. We have a modified experience for viewers using ad blockers

Wikia is not accessible if you've made further modifications. Remove the custom ad blocker rule(s) and the page will load as expected.