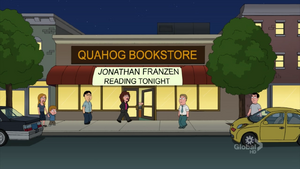 Quahog Bookstore is where Brian takes Stewie to a book reading by Johnathan Franzen in "Mr. and Mrs. Stewie". But when Jonathan fails to show up after becoming successful, Brian starts to read one of his writings until stopped by Stewie who sprays him with a water bottle. Brian strikes up a conversation with a coed and offers to evaluate her writing. She takes him back to her room at Rhode Island College where Brian successfully has sex with her.
Ad blocker interference detected!
Wikia is a free-to-use site that makes money from advertising. We have a modified experience for viewers using ad blockers

Wikia is not accessible if you've made further modifications. Remove the custom ad blocker rule(s) and the page will load as expected.