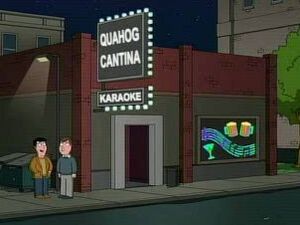 Quahog Cantina is a karaoke bar where Peter and Rich Little (via a ham radio posing as the ghost of Ronald Reagan) sing "Don't Go Breakin' My Heart" in "Quagmire's Baby". But whenever Peter turns the mike over to the ham radio, there is an enormous amount of feedback that makes it hard on the audience's ears.
Ad blocker interference detected!
Wikia is a free-to-use site that makes money from advertising. We have a modified experience for viewers using ad blockers

Wikia is not accessible if you've made further modifications. Remove the custom ad blocker rule(s) and the page will load as expected.