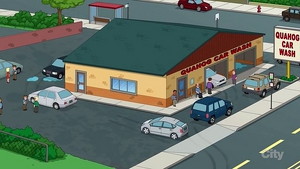 The Quahog Car Wash is where Brian meets Tori in "Brokeback Swanson".
After engaging in some wordplay, Brian get invited back to Tori's place for sex, as Stewie observes that he doesn't believe things will end well.
Ad blocker interference detected!
Wikia is a free-to-use site that makes money from advertising. We have a modified experience for viewers using ad blockers

Wikia is not accessible if you've made further modifications. Remove the custom ad blocker rule(s) and the page will load as expected.