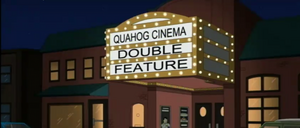 The Quahog Cinema is where Peter Griffin and Brian watch The Sound of Music in live action during a double feature in "Friends of Peter G". When they become inebriated, they disturb the other attendees. After being asked to keep quiet, Peter complains about the figure on the screen talking through the film and together, Peter and Brian attack the screen.
Ad blocker interference detected!
Wikia is a free-to-use site that makes money from advertising. We have a modified experience for viewers using ad blockers

Wikia is not accessible if you've made further modifications. Remove the custom ad blocker rule(s) and the page will load as expected.