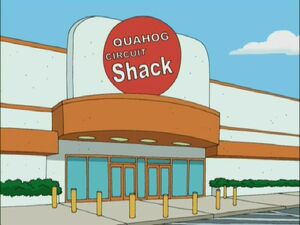 Quahog Circuit Shack is an electronics store in Quahog, Rhode Island. Peter and Lois also buy a TiVo here at the beginning of "Bango Was His Name Oh", the second segment of Stewie Griffin: The Untold Story from Jim Kaplan.
It is where Stu Griffin worked in 2035 in the third Stewie Griffin: The Untold Story segment "Stu & Stewie's Excellent Adventure". Stu was fired for having sex with another employee, his co-worker Fran.
Ad blocker interference detected!
Wikia is a free-to-use site that makes money from advertising. We have a modified experience for viewers using ad blockers

Wikia is not accessible if you've made further modifications. Remove the custom ad blocker rule(s) and the page will load as expected.