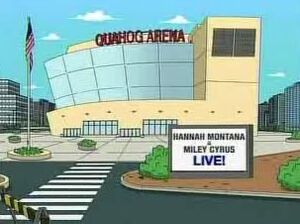 See also the Hydrox Arena
The Quahog Civic Center, also known as the Quahog Arena, is the site of various attractions including the Star Trek convention in "Not All Dogs Go To Heaven", the Miley Cyrus/Hannah Montana concert in "Hannah Banana", and the Quahog Rodeo in "Dial Meg for Murder".
A different Civic Center is the site of the District Spelling Bee in "Tales of a Third Grade Nothing".
The Center is the site of a Justin Bieber concert in "Lois Comes Out of Her Shell". Lois sneaks backstage intending to seduce Justin while going through a midlife crisis but Justin is knocked out by Peter who comes to reassure Lois that he still loves who she really is. When Justin is called out onstage, Peter goes out and presents "Conway Bieber".
Peter goes to the arena to see Devo in "Herpe, the Love Sore", armed with a whip taken from Quagmire's mail and proceeds to crack it at other patrons during "Whip It".
Peter attends a concert with his former girlfriend Gretchen in "Take a Letter", but leaves early when he feels like he is being unfaithful to Lois.
Brian and Olivia Fuller perform as at the arena as the opening act for The Turtlenecks in "The Boys in the Band".
The arena is the site of the dog show that Brian participates in to try to win sex with Ellie in "Boy (Dog) Meets Girl (Dog)".