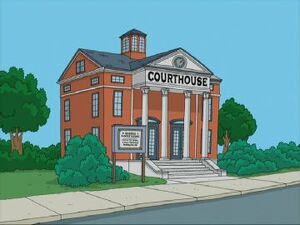 The Quahog Courthouse is the local courthouse in Quahog, Rhode Island. It is presided over by two judges, one black, one white. The white judge however hasn't appeared since season three. Such trials as Brian's fight for his puppies in "Screwed the Pooch", Peter's for the murder of his wife Lois in "Stewie Kills Lois" and Peter and Brian's drunken rampage at the Quahog Cinema in "Friends of Peter G". Peter was chosen for jury duty here in "April in Quahog". The walls are occasionally destroyed by the appearance of the Kool-Aid Man.
Ad blocker interference detected!
Wikia is a free-to-use site that makes money from advertising. We have a modified experience for viewers using ad blockers

Wikia is not accessible if you've made further modifications. Remove the custom ad blocker rule(s) and the page will load as expected.