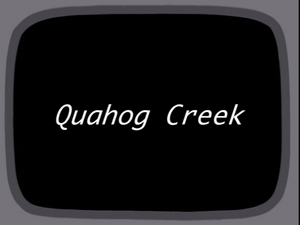 Quahog Creek is a television show idea that Peter Griffin comes up with to make himself and Carter Pewterschmidt rich after Carter loses all of his money when he is sued as the publisher of Peter's pornography novel in "Peterotica". It is a blatant ripoff of The WB's Dawson's Creek. Peter's idea includes singing the theme to Dawson's Creek, "I Don't Want to Wait", or at least his interpretation. However, Carter draws the line with Peter when he is cast to play Josephine "Joey" Potter, a role originated by Katie Holmes. The episode was being directed by Peter's dog Brian.
Ad blocker interference detected!
Wikia is a free-to-use site that makes money from advertising. We have a modified experience for viewers using ad blockers

Wikia is not accessible if you've made further modifications. Remove the custom ad blocker rule(s) and the page will load as expected.