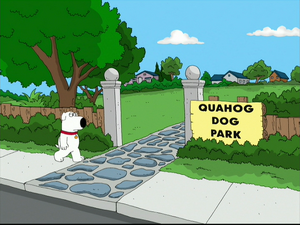 Quahog Dog Park is in Quahog, Rhode Island.
While visiting the park in "Screwed the Pooch", Brian made small talk with a dog owner while observing the other dogs play. When he thought no one was looking, he offered a dog a treat in order to sniff the backside of another dog until he realizes he is surrounded by onlookers. He tries to pass it off by saying he thought he smelled cookies, and runs off. When Mort Goldman takes a sniff he claims she farted in his face and he swallows it.
Ad blocker interference detected!
Wikia is a free-to-use site that makes money from advertising. We have a modified experience for viewers using ad blockers

Wikia is not accessible if you've made further modifications. Remove the custom ad blocker rule(s) and the page will load as expected.