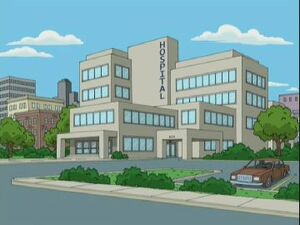 The Quahog Hospital is the primary place of care by Dr. Hartman.
In "Emission Impossible", Carol Pewterschmidt gave birth there.
In "Peter's Two Dads", Francis Griffin dies there after Peter crushes him.
In "Believe It or Not, Joe's Walking on Air", Joe gets a new set of legs there after being sick of not being able to walk.
In "Stewie Loves Lois", Peter goes to Quahog Hospital to get a flu shot but also gets a prostate exam thinking he's been raped by Dr. Hartman does the process.
In "Sibling Rivalry", Peter gets a vasectomy.
Meg Griffin meets Doctor Michael Milano after she nearly drowns in "Peter's Daughter".
In "Ocean's Three and a Half", Bonnie gives birth there to Susie Swanson.
Peter receives a kidney transplant there with Dr. Hartman as the donor in "New Kidney in Town".
Peter, Joe Swanson, Quagmire and Brian wake up in the hospital without their memories and find all of Quahog deserted in "Forget-Me-Not".
While waiting for Quagmire to get a hair transplant, Joe proves to be very familiar with the hospital staff in "The Old Man and the Big 'C'". However, Brian also discovers that Carter has cancer and is told he has only two weeks to live.
Peter sits on Stewie's harmonica in "No Country Club for Old Men", getting it lodged in his rectum. When he finds it is too expensive to remove. Peter decides to make the most of the situation by performing tunes.
Peter wrecks the car, injuring Cleveland and landing him in the hospital in "He's Bla-ack!" in an attempt to get the wives to allow the guys to see each other again. However, Peter escapes injury due to having a driver's side-only airbag.