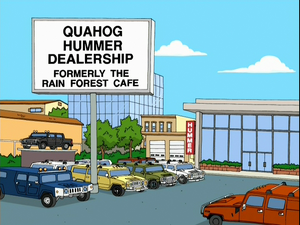 The Quahog Hummer Dealership is where Brian is employed after he becomes the family provider in "The Perfect Castaway" when Peter is lost at sea.
The dealership notes that it was a former Rain Forest Cafe location. Paddy Tanniger also works there and when Brian broods over Peter's return, casts doubt on Lois' fidelity. Herbert arrives looking for an ice cream truck that plays "The Entertainer".
Ad blocker interference detected!
Wikia is a free-to-use site that makes money from advertising. We have a modified experience for viewers using ad blockers

Wikia is not accessible if you've made further modifications. Remove the custom ad blocker rule(s) and the page will load as expected.