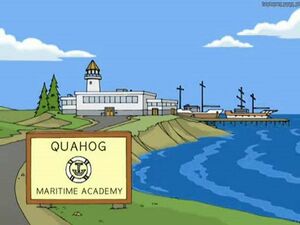 The Quahog Maritime Academy is a high school in Quahog, Rhode Island for the training of men to become licensed mariners.
This was one of the schools considered for Chris Griffin after he was expelled from James Woods Regional High School in No Chris Left Behind. When a sailor gives Chris and his parents Peter and Lois Griffin a tour, he tells them that the maritime academy is all about being on boats with men for a long time, which assumingly brings out the homosexuality in the students. Realizing this, infant Stewie asks if there is a pre-school program.
Ad blocker interference detected!
Wikia is a free-to-use site that makes money from advertising. We have a modified experience for viewers using ad blockers

Wikia is not accessible if you've made further modifications. Remove the custom ad blocker rule(s) and the page will load as expected.