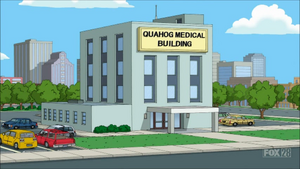 The Quahog Medical Building is where Lois and Peter Griffin bump into Ryan Reynolds on his way to film a new movie in "Stewie Goes for a Drive" after Peter gets a shot. Peter notes that most of the office visit went well except for dealing with a screaming autistic lady in the lobby.
Lois organizes a blood drive at the Medical building for victims of a hurricane in Haiti in "Baking Bad".
Ad blocker interference detected!
Wikia is a free-to-use site that makes money from advertising. We have a modified experience for viewers using ad blockers

Wikia is not accessible if you've made further modifications. Remove the custom ad blocker rule(s) and the page will load as expected.