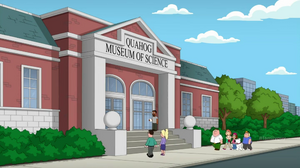 The Quahog Museum of Science is where Peter Griffin tries to convince the family that they can have fun right in Quahog without the headache of traveling to Europe as Lois wishes in "Boopa-Dee Bappa-Dee". After appearing to enjoy their day with the exhibits, as they leave, Peter declares that their visit and the museum "sucked."
Ad blocker interference detected!
Wikia is a free-to-use site that makes money from advertising. We have a modified experience for viewers using ad blockers

Wikia is not accessible if you've made further modifications. Remove the custom ad blocker rule(s) and the page will load as expected.