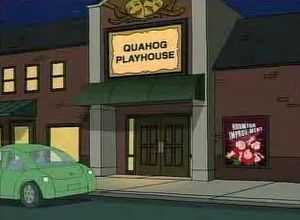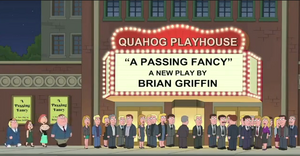 The Quahog Playhouse is a performing arts venue in Quahog, Rhode Island.
Peter's improv group, Room for Improv-ment have their first performance at the Quahog Playhouse in Spies Reminiscent of Us, and it all doesn't go to Quagmire's plan when Peter takes over the sketch with his own comedy stylings and Joe defecates. Death and the Goldmans are in the audience.
In "Brian's Play", Brian's new work A Passing Fancy makes its debut at the playhouse.
Ad blocker interference detected!
Wikia is a free-to-use site that makes money from advertising. We have a modified experience for viewers using ad blockers

Wikia is not accessible if you've made further modifications. Remove the custom ad blocker rule(s) and the page will load as expected.