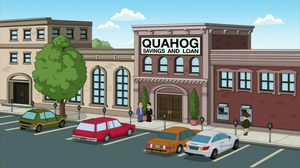 Quahog Savings and Loan is where Lois takes Peter to open his own checking account when he finds that he doesn't have a real one in "Quagmire's Mom", having instead been given a blank pad of post-it notes.
When he produces his birth certificate for the bank officer, he finds out that his original birth name is Justin Peter Griffin and decides to change his persona to that of a young hipster to fit the name "Justin."
Ad blocker interference detected!
Wikia is a free-to-use site that makes money from advertising. We have a modified experience for viewers using ad blockers

Wikia is not accessible if you've made further modifications. Remove the custom ad blocker rule(s) and the page will load as expected.