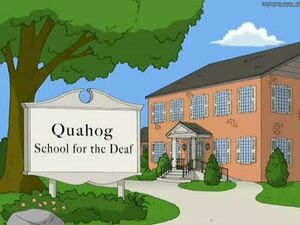 The Quahog School for the Deaf is a high school for the deaf and hard of hearing in Quahog, Rhode Island.
This was one of the schools considered for Chris Griffin after he was expelled from James Woods Regional High School in No Chris Left Behind. As the principal gives Chris and his parents Peter and Lois Griffin a tour, they come across a pep rally for an upcoming game against Lincoln. Because the coach is deaf, this exchange occurs multiple times. After a few repeats, Chris expresses discontent in the school's potential for him and suggests they leave.
Ad blocker interference detected!
Wikia is a free-to-use site that makes money from advertising. We have a modified experience for viewers using ad blockers

Wikia is not accessible if you've made further modifications. Remove the custom ad blocker rule(s) and the page will load as expected.