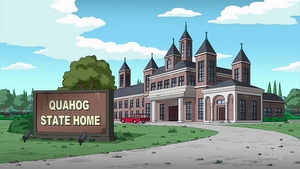 The Quahog State Home is where Peter and the guys decide they need to leave Joe after he becomes a quadriplegic in "Brokeback Swanson", and find they may be in over their heads when they try to take care of him after Bonnie leaves.
But when Peter gets into legal trouble, Lois suggests he enlists Joe's aid, only to find out about the home. The guys decide to get Joe out, but when a nurse tells them that they must get Dr. Hartman's permission, they find that Joe's paralysis is caused by the doctor leaving his cell phone in Joe's back during his exam.
Ad blocker interference detected!
Wikia is a free-to-use site that makes money from advertising. We have a modified experience for viewers using ad blockers

Wikia is not accessible if you've made further modifications. Remove the custom ad blocker rule(s) and the page will load as expected.