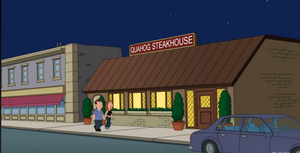 The Quahog Steakhouse is where Joe Swanson takes Meg Griffin and Susie out to dinner to thank Meg for taking care of him in "The Hand That Rocks the Wheelchair". During the evening out, Meg asking Joe about having more children and offers to take herself off of birth control when he isn't opposed to the idea of having more children. When Joe becomes shocked, Meg becomes emotional and starts breastfeeding Susie who recognizes that something isn't quite right.
Ad blocker interference detected!
Wikia is a free-to-use site that makes money from advertising. We have a modified experience for viewers using ad blockers

Wikia is not accessible if you've made further modifications. Remove the custom ad blocker rule(s) and the page will load as expected.