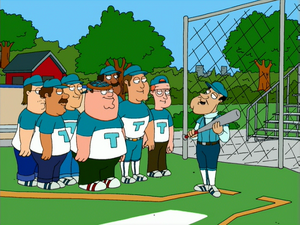 The Quahog Toy Boys was a former baseball team that represented the Happy-Go-Lucky Toy, made up of their employees. The team appeared prominently in the episode "A Hero Sits Next Door" where they play against the Pawtucket Pranksters, who they lost to the previous year. In an attempt to win this year, the owner and manager Jonathan Weed hires Guillermo. He ends up hit by a bad pitch from Peter Griffin. In order to prevent getting fired, Peter ends up hiring his new neighbor Joe Swanson, unaware of the fact that he's a paraplegic. At the end of the game, however, Joe ends up winning the game for the team, leading him to become the team favorite much to Peter's dismay.
Since the company was shut down in the episode "Mr. Saturday Knight", it can be assumed that the Toy Boys were disbanded as well.
Ad blocker interference detected!
Wikia is a free-to-use site that makes money from advertising. We have a modified experience for viewers using ad blockers

Wikia is not accessible if you've made further modifications. Remove the custom ad blocker rule(s) and the page will load as expected.