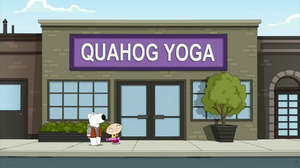 Quahog Yoga is where Stewie takes Brian to try to help him want to return to his normal self when he refuses to have surgery to remove a brain tumor that is making him an idiot in "Our Idiot Brian".
He tells Brian that it is the place where smart people go while everyone else is in church, but Brian can only focus on the girls doing their yoga exercises.
Ad blocker interference detected!
Wikia is a free-to-use site that makes money from advertising. We have a modified experience for viewers using ad blockers

Wikia is not accessible if you've made further modifications. Remove the custom ad blocker rule(s) and the page will load as expected.