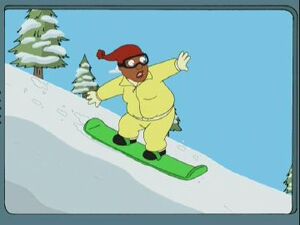 Dana Elaine Owens (born March 18, 1970), better known by her stage name Queen Latifah, is an American rapper, singer, model, actress and CoverGirl. Latifah's work in music, film and television has earned her a Golden Globe award, two Screen Actors Guild Awards, two Image Awards, a Grammy Award, six additional Grammy nominations, an Emmy Award nomination and an Academy Award nomination.
In "Airport '07", her movie Last Holiday is shown as an in-flight movie. It shows her on skis and falling off them.
Ad blocker interference detected!
Wikia is a free-to-use site that makes money from advertising. We have a modified experience for viewers using ad blockers

Wikia is not accessible if you've made further modifications. Remove the custom ad blocker rule(s) and the page will load as expected.