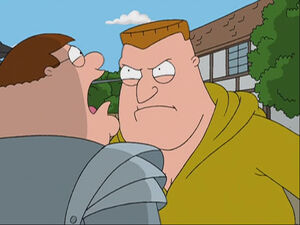 Ronald Lee Ermey (March 24, 1944 – April 15, 2018) was a former U.S. Marine Corps drill instructor and later a Golden Globe award nominated actor, often playing the roles of authority figures, such as Gunnery Sergeant Hartmann in Full Metal Jacket, Mayor Tilman in Mississippi Burning and Sheriff Hoyt in The Texas Chainsaw Massacre remake. He has hosted two military-related programs on the History Channel: Mail Call, in which he answers viewers' questions about technology and hardware and Lock n' Load, which focuses specifically on the development of different types of weapons.
In "Mr. Saturday Knight", he voiced the Jousting Drill Instructor.
In "Grumpy Old Man", he voiced a drill sergeant with Alzheimer's disease.