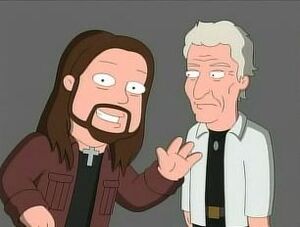 REO Speedwagon is an American rock band from Champaign, Illinois. Formed in 1967, the band grew in popularity during the 1970s and peaked in the early 1980s. Some of their more well-known songs are the 70's rock staples "Ridin' the Storm Out" and "Roll with the Changes", as well as 80's power-ballads "Keep On Loving You" and "Can't Fight This Feeling". Their 1980 album Hi Infidelity is the group's most commercially successful album, selling over 10 million copies and charting four Top 40 hits in the US.
The band appears in concert in "The Splendid Source", having relayed a dirty joke they picked up. When Peter Griffin starts to introduce "Time for Me to Fly", lead singer Kevin Cronin interrupts, not wanting his ex-wife to earn the money. John Payne of Asia requests "Only Time Will Tell" instead.
Ad blocker interference detected!
Wikia is a free-to-use site that makes money from advertising. We have a modified experience for viewers using ad blockers

Wikia is not accessible if you've made further modifications. Remove the custom ad blocker rule(s) and the page will load as expected.