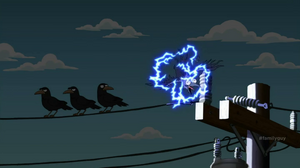 Raj is a crow in a cutaway set up by Meg who convinces another crow that an electric insulator is full of corn in "A Fistful of Meg". When the crow goes over to peck at it, he is killed by the electricity from the wire, prompting another crow to comment on Raj's dark humor.
Ad blocker interference detected!
Wikia is a free-to-use site that makes money from advertising. We have a modified experience for viewers using ad blockers

Wikia is not accessible if you've made further modifications. Remove the custom ad blocker rule(s) and the page will load as expected.