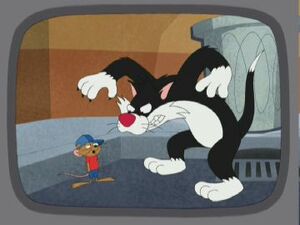 Rapid Dave is a cartoon character Peter Griffin creates in Padre de Familia. Tired of immigrants invading children's cartoons, Peter creates him as an American equivalent to Speedy Gonzalez. He appears to be a rat from the Upper West Side of New York City. In one of his cartoons, Sylvester the Cat is chasing him before he narrowly escapes.
He is voiced by Seth MacFarlane.
Ad blocker interference detected!
Wikia is a free-to-use site that makes money from advertising. We have a modified experience for viewers using ad blockers

Wikia is not accessible if you've made further modifications. Remove the custom ad blocker rule(s) and the page will load as expected.