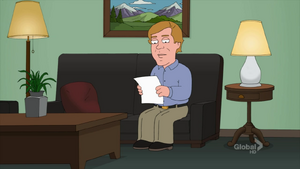 The trash can breaking through the Griffins' window is a reference to the climax of the film Do the Right Thing.
Peter writes to actor Cary Elwes, wondering how famous he is, noting that his most notable role was in a mask, which would be Westley in The Princess Bride.
Peter plays Hungry Hungry Alec Baldwin, a version of Hungry Hungry Hippos except with Alec Baldwin. The Alecs eat the balls even when not being touched, mocking Baldwin's weight.
The "talking to the camera" bit references The Office.
Quagmire references the Wasteland Speech.
David Letterman is reading Good Night, Truck, a parody of Goodnight Moon and its series of children's books.