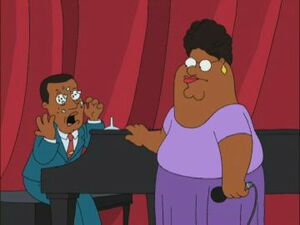 Ray Charles, born Ray Charles Robinson (September 23, 1930 - June 10, 2004) was an American musician. Charles was a pioneer in the genre of soul music during the 1950s by fusing rhythm & blues, gospel, and blues styles into his early recordings for Atlantic Records. He also helped racially integrate country and pop music during the 1960s with his crossover success on ABC Records, most notably with his Modern Sounds albums. During his tenure with ABC, Charles became one of the first African-American musicians to receive and practice artistic control bestowed upon by a mainstream record company
Charles is seen in a cutaway performing with Ella Fitzgerald Griffin in Stewie Griffin: The Untold Story. At the time of the performance, he still had his sight. When she sustains a high note during a scat solo, the champagne glass on the piano shatters, sending shards of glass into Charles' eyes and causing his blindness.
In "It's A Trap!", Charles' song "Mess Around" is shown to be lip synched by an AT-ST driver in a parody of a scene from Planes, Trains & Automobiles.
Ray Charles is voiced by Kevin Michael Richardson.