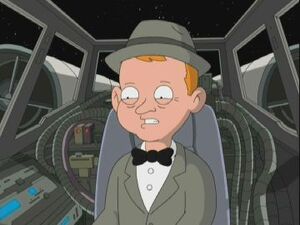 Red Buttons (February 5, 1919 – July 13, 2006) was an Academy Award-winning American comedian and actor. Buttons was born Aaron Chwatt on February 5, 1919 in New York City to Jewish immigrants. At sixteen years old, Buttons got a job as an entertaining bellhop at Ryan's Tavern in City Island, Bronx. The combination of his red hair and the shiny buttoned bellhop uniform inspired orchestra leader Charles "Dinty" Moore to call him Red Buttons, the name under which he would later perform.
He appears as part of Red Squadron in Blue Harvest.
Ad blocker interference detected!
Wikia is a free-to-use site that makes money from advertising. We have a modified experience for viewers using ad blockers

Wikia is not accessible if you've made further modifications. Remove the custom ad blocker rule(s) and the page will load as expected.