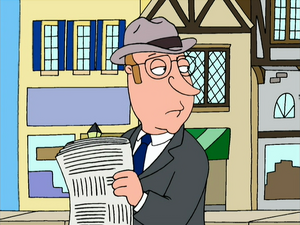 Reginald B. Stifworth is an Englishman who touts the merits of a united European commonwealth. Unfortunately, in "There's Something About Paulie", Shelley Boothbishop and his friend Jeremy disagree with Reginald. They show their disagreement during a drive-by argument.
The character is based on Seth MacFarlane's character of the same name in Life of Larry, the precursor to Family Guy. The drive-by argument is the subject of MacFarlane's first animated cutaway gag.
Ad blocker interference detected!
Wikia is a free-to-use site that makes money from advertising. We have a modified experience for viewers using ad blockers

Wikia is not accessible if you've made further modifications. Remove the custom ad blocker rule(s) and the page will load as expected.