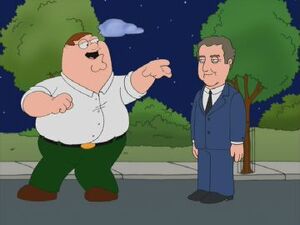 Regis Francis Xavier Philbin (born August 25, 1931) is an American media personality and sometimes actor and singer, known for fronting various talk and game shows. Appearing on television since the late 1950s, Philbin is often called "the hardest working man in show business". He is most widely known as the former co-host Live with Regis and Kelly, Who Wants to Be a Millionaire?, Million Dollar Password, and the first season of America's Got Talent.
He had a cameo in "E. Peterbus Unum" during Peter Griffin's "Can't Touch Me" rap. He was mentioned in the lyrics.
He is seen with Kelly Ripa after their show in the "Family Guy Viewer Mail No. 1" segment "No Bones About It". Ripa, a maneating alien, chooses Regis as one of her victims. Philbin and Ripa provided their own voices for the gag.
Peter calls Pat Sajak "Regis" on Wheel of Fortune in "I Take Thee Quagmire".
Hope mentions she watches Live with Regis and Kelly in "Livin' on a Prayer".