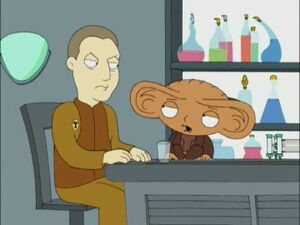 René Murat Auberjonois is an American actor, known for portraying Father Mulcahy in the movie version of M*A*S*H and for creating a number of characters in long-running television series, including Clayton Endicott III on Benson for which he was nominated for an Emmy Award, Odo on Star Trek: Deep Space Nine, and attorney Paul Lewiston on Boston Legal.
He reprised his role as Odo for a confrontation with Quark Griffin in Stewie Griffin: The Untold Story.
Ad blocker interference detected!
Wikia is a free-to-use site that makes money from advertising. We have a modified experience for viewers using ad blockers

Wikia is not accessible if you've made further modifications. Remove the custom ad blocker rule(s) and the page will load as expected.