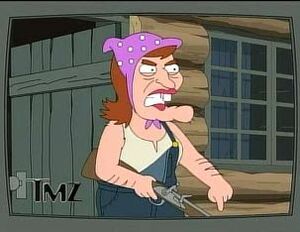 Rene Marie Russo (born February 17, 1954) is an American film actress. She was a model from age 17 until she was 30. As she aged, she found it necessary to find new work and started appearing in plays and eventually landing movie roles in Major League and Lethal Weapon 3 and Lethal Weapon 4 opposite Mel Gibson. She has since starred in many movies.
In "Road to Germany", Stewie Griffin jokes that she was born on September 1, 1939.
In a reflection of her Hollywood durability, she appears as a backwoods rustic when she confuses TMZ paparazzi with the TVA officers (Tennessee Valley Authority) in "Peter-assment".