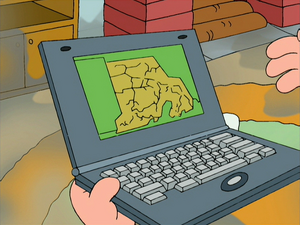 The State of Rhode Island and Providence Plantations, more commonly referred to as Rhode Island, is a state in the New England region of the United States. It is the smallest U.S. state by area. Rhode Island borders Connecticut to the west and Massachusetts to the north and east, and it shares a water boundary with New York's Fishers Island to the southwest.
Rhode Island was the first of the thirteen original colonies to declare independence from British rule and the last to ratify the United States Constitution.
Rhode Island's official nickname is "The Ocean State," a reference to the state's geography, since Rhode Island has several large bays and inlets that amount to about 30% of its total area.
Rhode Island is the setting for the fictional town of Quahog.
Places of Interest
Ad blocker interference detected!
Wikia is a free-to-use site that makes money from advertising. We have a modified experience for viewers using ad blockers

Wikia is not accessible if you've made further modifications. Remove the custom ad blocker rule(s) and the page will load as expected.