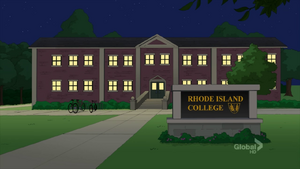 Rhode Island College (RIC) is a nationally ranked, coeducational, state-supported comprehensive college founded in 1854, located in Providence, Rhode Island, USA. Rhode Island College is the oldest of the three public institutions of higher education that operate under the aegis of the Board of Governors for Higher Education; the two other institutions are the University of Rhode Island and the Community College of Rhode Island.
Writer and Executive Producer Danny Smith is a 1981 graduate of RIC, where he drew comics for the college's newspaper, The Anchor.
In "Mr. and Mrs. Stewie", Brian takes Stewie to a book reading at Quahog Bookstore but the author fails to show up after becoming successful. Brian strikes up a conversation with a coed and offers to evaluate her writing. She takes him back to her room at Rhode Island College where Brian successfully has sex with her.