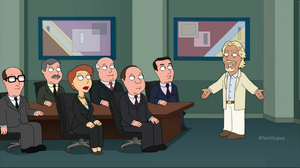 Sir Richard Charles Nicholas Branson (born 18 July 1950) is an English business magnate and investor. He is best known as the founder of Virgin Group, which comprises more than 400 companies.
With Peter's success in employing bikini models to work at the Peter's Wife's Cookies store in "Baking Bad", he reassures Lois that they'll have more money than Richard Branson. In a cutaway gag, Richard is shown using his money to build a flying amphibious submarine.
Richard Branson is voiced by John Viener.