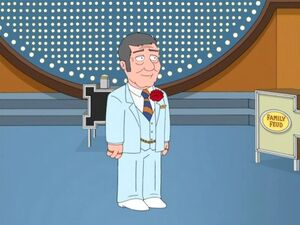 Richard Dawson (November 20, 1932 - June 2, 2012) was a British-American actor, comedian and game show host. He played the role of Cpl. Peter Newkirk on the American television situation comedy Hogan's Heroes and later was a cast member on the comedy variety series Rowan and Martin's Laugh In. Dawson is best known for his hosting stint on the long-running game show Family Feud, where the objective is to match survey responses to questions posed to two teams of five family members. Dawson hosted that show for its entire original run (1976-1985) and again from 1994-1995.
In "Big Man on Hippocampus", Dawson hosts Family Feud on the original 1976 set, with the original music and rules, along with Dawson's practice of kissing the female contestants. The episode featured the Griffin Family going up against the Callaghan Family. Lois Griffin, well aware of his kindness, French kisses him. Peter and Dawson get into an argument over the game's rules, and Peter ends up being accidentally pushed through the podium as Dawson advises Peter that he served in the fictitious military.
Dawson also appears as one of the panelists on The Match Game in "Mr. Saturday Knight".