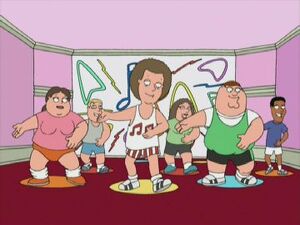 Milton Teagle Simmons (born July 12, 1948), known professionally as Richard Simmons, is an American fitness personality who promotes weight-loss programs, most famously through his Sweatin' to the Oldies line of aerobics videos and DVDs and is known for his eccentric, outgoing personality. Simmons began his career opening a gym catering to the overweight, and he became widely known through exposure on television and through the popularity of his consumer products. He became a striking cultural icon, often parodied, and a frequent guest of late night television talk shows such as The Late Show with David Letterman. Today, Simmons continues to promote health and has broadened his activities to include political activism, notably in support of a bill mandating non-competitive physical education in public schools as a part of the "No Child Left Behind" act.
In "Ready, Willing, and Disabled", a cutaway shows Peter Griffin working out in "Richard Simmons' Sweatin' to Books on Tape", a parody of Simmons' "Sweatin' to the Oldies" series of exercise videos. The book on tape is Tuesdays With Morrie by Mitch Albom.
Peter also asks several tough-looking guys at The Drunken Clam if they are Simmons in "Death Is a Bitch". He tries to provoke them into shooting him as a way to prove Death's incapacitation.