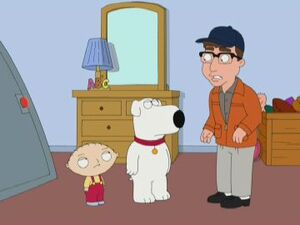 Frederick Allan "Rick" Moranis (born April 18, 1953) is a retired Canadian comedian, actor and musician. Coming to prominence in the 1980s on Second City Television, before moving on to appearances in several Hollywood films, including Strange Brew; Ghostbusters; Spaceballs; Little Shop of Horrors; Honey, I Shrunk the Kids; Little Giants; Parenthood; The Flintstones, and My Blue Heaven.
In "Road to Germany", he appeared as Seymour Krelborne, his character from Little Shop of Horrors to explain where Mort Goldman went in the song "Mort the Jew", based on "Da Doo" from the film.
For Herbert's performance of "Somewhere That's Green" in the episode "The Courtship of Stewie's Father", Chris fulfills the role of Krelborne.