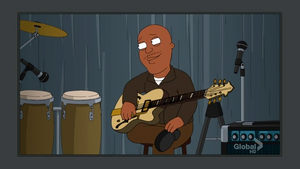 Rickey Minor is a music director, composer and music producer, now best known as musical director and bandleader for The Tonight Show with Jay Leno after Kevin Eubanks left.
Rickey appears as Jay Leno's sidekick on The Tonight Show while Jeff and Brenda Quagmire watch the show in "Screams of Silence: The Story of Brenda Q.".
Ad blocker interference detected!
Wikia is a free-to-use site that makes money from advertising. We have a modified experience for viewers using ad blockers

Wikia is not accessible if you've made further modifications. Remove the custom ad blocker rule(s) and the page will load as expected.