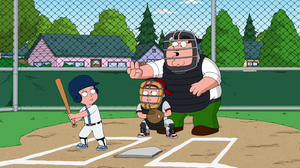 Ricky is a little league baseball player in a cutaway Peter sets up when he notes that he was let into Heaven when he can't even upmire little league baseball games in "3 Acts of God".
As Ricky bats, Peter tells him he has two strikes and the best ass on the field.
Ad blocker interference detected!
Wikia is a free-to-use site that makes money from advertising. We have a modified experience for viewers using ad blockers

Wikia is not accessible if you've made further modifications. Remove the custom ad blocker rule(s) and the page will load as expected.